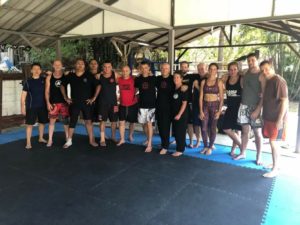 Another great Thailand Camp!
2 weeks of the best training.
2 hours on the morning and then 2 hours before dinner. The day time to explore the Ko Samui
This year we had one of our guys fighting as well. Peter Irving won his fight in great fashion.
2019 Camp is all set to go. So book now to save your place.
Thailand Camp Wing Chun and BJJ/MMA       18th Feb – 3rd March  2019
Alan Orr and Reto Sprecher with guess Instructor Peter Irving !
2 week camp – 4 hours a day training
9-11 Am and 5-7 Pm
One week – 10,000 Thai Baht
Two weeks 15,000 Thai Baht
email Alan at alan@gym101.co.nz